28 June 2022
Are you our next Commonwealth War Graves Foundation Volunteer Speaker?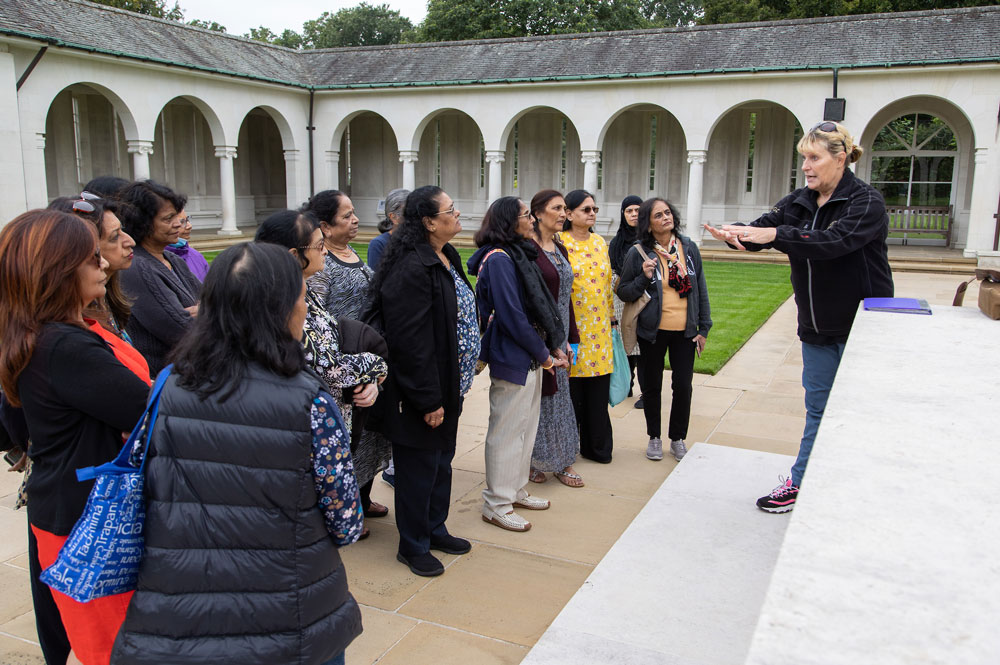 If you've got a passion for local history and public speaking, you could be one of our Commonwealth War Graves Foundation Volunteer Speakers.
Commonwealth War Graves Foundation Volunteer Speakers
About the Volunteer Speakers programme
One of our key projects at the Foundation is to create a UK-spanning network of trained, knowledgeable Volunteer Speakers to educate and inspire audiences of all ages regarding our work.
With generous sponsorship from the MacRobert Trust, we're doing just that!
Our brilliant volunteer speakers visit schools, colleges, scout/guide groups, businesses, faith groups, rotary clubs, and many more different organisations.
They help share more about the important work we do at the Foundation and Commonwealth War Graves Commission (CWGC), as well as encourage people from all walks of life to engage with their local and shared history.
We organise workshops and talks with groups and organisations of all sizes – but it's our Volunteer Speakers who really deliver. We rely on their incredible knowledge and passion to reach untapped audiences. Could you be one of them?
What do CWGF volunteer speakers talk about?
We have a couple of guidelines and themes talented speakers can elaborate on:
The work of the CWGC via professional presentations on its history and work, including a look at war graves nearby, interesting personal stories on CWGC casualties, and information on the Foundation.
Lead workshops and talks on important anniversaries, such as Remembrance Day, VE & VJ Day, D-Day, and so on. We provide speakers with a template to follow for such presentations, but generally, each workshop is tailored to the target audience.
The CWGF and promote donation and/or memberships. Education is at the core of what we do after all!
Of course, it's not all about the past. Our Volunteer Speakers also provide a vital link in updating groups of all ages on our current work and potential plans.
It's a busy remit – but a rewarding one. Volunteering is known to give participants some big benefits, including boosting their health and wellbeing, as well as improving their confidence.
Volunteering as a speaker is also a great way to share your knowledge and enthusiasm for all things history.
Why do we recruit volunteer speakers?
The Commission looks after 1.7m casualties around the world. More than 300,000 are commemorated at sites across the United Kingdom. It's our job to ensure their stories are kept alive.
Our Volunteer Speakers provide a vital link to the past for the reasons listed above. As passionate history enthusiasts, they have the skills to really captivate and educate an audience. We're able to greatly draw on their expertise when it comes to influencing and inspiring generations young and old.
An important focus of our work is exploring and sharing local history. The CWGC looks after memorials and cemeteries in every corner of the UK. By drawing on a corps of enthusiastic volunteers, we're able to reach groups in many local areas. Our outreach is increased, so we can spread the word about our sites, our casualties, and our work commemorating them.
How can you become a Volunteer Speaker?
If you think you fit the profile of a CWGF Volunteer Speaker we want to hear from you!
Opportunities to get involved are available on the Commissions Volunteer page. Simply scroll to find the latest Speakers Programme opportunities.
Be sure to check out more ways to volunteer and get involved on that page too.