14 March 2022
Join us for Walking our War Graves: Normandy - Register now!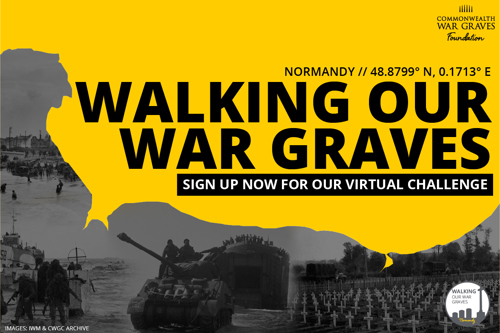 Last year, we held our first virtual fundraising challenge Walking Our War Graves: The Western Front, which saw an incredible response from both participants and donors who raised more than £20,000 through registration, donations and sponsorship.
For our first fundraising event of 2022, the Commonwealth War Graves Foundation invites you to Walking Our War Graves: Normandy! From 25th April- 27th May, the virtual 95km route will take you on an interactive journey around Normandy.
Register here
Lace up your trainers, get moving and join us for a virtual challenge like no other – all whilst supporting the CWGF and helping us to engage, inspire and educate people with the stories of sacrifice that must never be forgotten.
Register here
Starting at Ranville War Cemetery, cover the distance between Commission cemeteries that commemorate those lost in the Normandy region during the Second World War. Stops along the way will include Commission cemeteries in Bayeux, around Caen before finishing at Banneville-la-Campagne War Cemetery.
Complete the distance any way you would like, and from anywhere in the world. Create a team with your family and friends, or track your journey as an individual on your early morning dog walk, whilst out and about at the weekend, or on your daily run. Uploads to your interactive map can be done manually or through the Strava app. For more information, please see our 'Guide to Walking Our War Graves'.
As you reach key cemetery milestones along the way, we will send you an email congratulating you and telling you the history of the site, and the incredible story of a casualty commemorated there.
Why not challenge yourself to raise £100, or as much as you can, and help us keep the stories alive of those men and women who died whilst fighting in the two World Wars. Personalise your fundraising page with your own information and image, and share to encourage your family and friends to support you on your virtual journey.
When the challenge is completed, and you are one of our top 5 fundraisers, a wreath will be laid on your behalf at Bayeux War Cemetery with a personalised message of your choice.
Show your support further by purchasing a Walking Our War Graves t-shirt for the event. Complete the challenge and you can opt-in to receive a Walking Our War Graves: Normandy medal to show off your achievement.
If you joined us last year, why not challenge yourself again? This will be a great way to expand your CWGF fundraising t-shirt and medal collection while learning about a different moment in History through those we commemorate.
John Grain, Executive Director of the CWGF, said:
'We are so happy to be bringing back the Walking Our War Graves virtual challenge for 2022. Requested by popular demand by last year's participants, we are glad to invite you all to walk, run, cycle or swim across the Normandy region to discover our sites and the stories of those we commemorate.
Taking part in this challenge will help the Commonwealth War Graves Foundation support key initiatives like our RAF Cadets research project to our first public engagement event in Nairobi, Kenya which saw local students visit Kariokor Cemetery to discover the Second World War casualties buried there.'
Keep us posted of how you are completing the challenge by using the hashtag #WalkingOurWarGraves on social media.