31 October 2021
Walking our War Graves wreath laying
Throughout autumn, we asked you to walk 125km, virtually, along the Western Front. An incredible number of you took up the challenge, with more than 220 entrances raising more that £20,000 through registrations, donations and sponsorship. 
The virtual route started at CWGC's Thiepval Memorial to the Missing in France and finished at the Ypres Menin Gate Memorial - taking in multiple cemeteries along the way. 
As the route finished in Ieper, we decided to lay wreaths on behalf of all of the entrants beneath the iconic Menin Gate during the nightly Last Post ceremony. We also laid individual wreaths for the five highest fundraisers.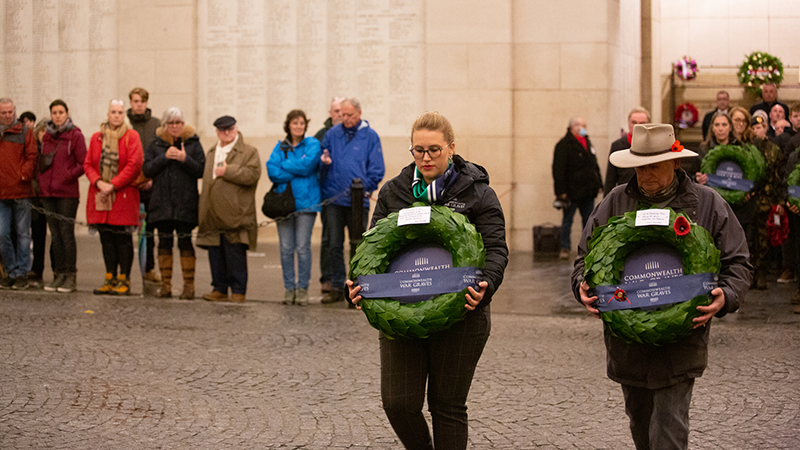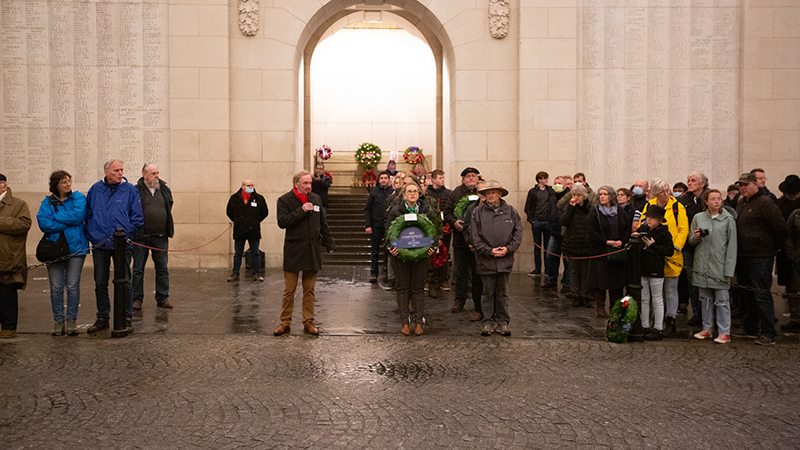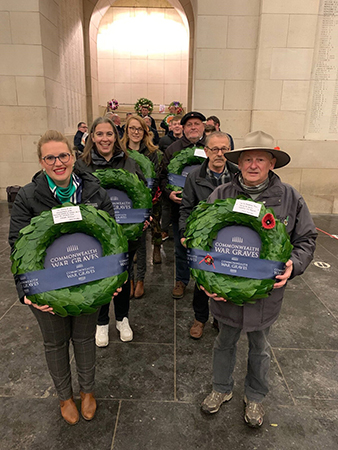 Laying a wreath during the Last Post ceremony is a rare privilege, and we asked some of our colleagues in Belgium, who also took part in the challenge, to lay the wreaths on our behalf, and then tell us about their fantastic evening. 
Nathalie, our Tourism and Marketing Specialist in Belgium, said:
"We took Walking Our War Graves- the Western Front literally and walked to cemeteries when we had the chance. It was a great way to discover sites I had never been to before, and to find out more about those buried there. I am very proud that we walked the whole distance from Thiepval Memorial to the Menin Gate with our team, and that we were able to raise money for the Foundation. Having the honour to lay a wreath on behalf of all participants was a lovely way to round off the event."
Louise, our Media Coordinator in the region, said:
"I am so glad that I participated in the Walking Our War Graves- the Western Front. While walking the 125km, I felt part of a community of CWGF ambassadors that raise awareness of the importance to commemorate those who lost their lives in the two World Wars. Family and friends were curious to know more about what I was doing, and it was a great conversation starter to talk about the work of the Foundation and the Commonwealth War Graves Commission."
Nele, our Area Coordinator, said:
"I have been to the Last Post Ceremony many times before and it has always been a very poignant experience. This time, however, was even more special as it was the first time that my colleagues and I had the honour to be part of it and lay a wreath on behalf of the CWGF. I couldn't think of a more fitting way for Nathalie, Louise and myself to conclude our Walking Our War Graves challenge which we completed together. During this special Last Post Ceremony we were joined by 3 Belgian men who laid a wreath on behalf of their overseas friend who was one of the top five fundraisers of the challenge. It was very touching to see that one of them was moved to tears after he read the exhortation under the Menin Gate. Undoubtedly an unforgettable and moving experience for us all."
A massive thank you to everyone who took part, donated and supported - with your help, we can keep their stories alive. 
Its not too late to donate!